Meet the Domaine Wine Storage St Louis Team
Paul Peters
General Manager
After graduating SIUE and with a budding interest in wine from working at the classic STL restaurant Tony's, Paul moved to the Rockies to pursue greater outdoor adventures. He landed in the field of carpentry and worked part-time in wine retail. Wine eventually trumped carpentry when Paul discovered his allergy to woodworking materials, and we are glad it wasn't the other way around. Paul married his wife Kristine, they moved to Oregon and he worked in vineyards, wineries and wine storage for six years. Upon joining the Domaine team in Spring 2016, Paul and his family relocated to his hometown of St. Louis where they are raising their three boys and pursuing their own family outdoor adventures. Paul also finds time to build home wine cellars and brew beer.
Paul oversees operations of our St. Louis facility, including storage accounts, warehouse and staff. He works directly with prospective and active clients, fielding all inquiries and requests and coordinates local and regional client pick-up and delivery.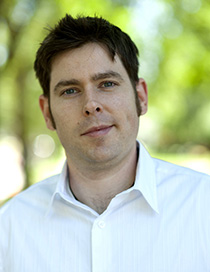 David Roach
Warehouse Manager
David came to the Domaine team in 2009 after many years in the restaurant and wine industry, first as a chef, then as the manager of local fine wine and spirits shop. While aged Bordeaux was the first wine to pique his interest in the subject, his favorite regions are currently Burgundy, the Northern Rhone and the Loire Valley for its diverse varieties and styles. David works directly with clients to manage incoming and outgoing inventories and also works to connect clients with the suite of curatorial services Domaine offers. On Friday afternoons, you will find him at the tasting table with St. Louis clients.
Read more about our Domaine St Louis Wine Storage facility here.