---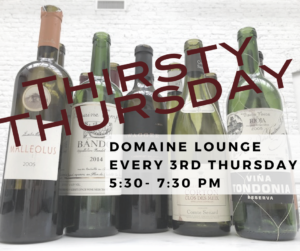 Thirsty Thursday is quickly approaching this month. After receiving multiple inquiries regarding the event, we are going to take this opportunity to answer your questions!
 1. What is a BYO?
Short for "Bring your own",  a BYO is an event where you can share and try wine with others – also known as a chance to drink your wine without a corkage fee.
2. Who will be there?
You'll be in the company of fellow Domaine Storage clients and staff!
3.  When can I arrive? 
The event starts at 5:30 and ends at 7:30. This is an open house style event, so stop by when you can!
4.  Why should I attend Domaine's BYO?
It's a great opportunity to taste and learn about great wines, as well as socialize with fellow Domaine clients and staff – get to know your locker buddies.
5. Where is it and how can I get there? 
We'll be popping bottles in the Domaine Lounge – we recommend taking your car or a form of public transportation. If you intend to try many wines – Über is a great option, as well.
Mark your Calendars for Upcoming Thirsty Thursday BYOs:
April 19
May 17
June 21
July 19
August 16
September 20
October 18
November 15
December 20