---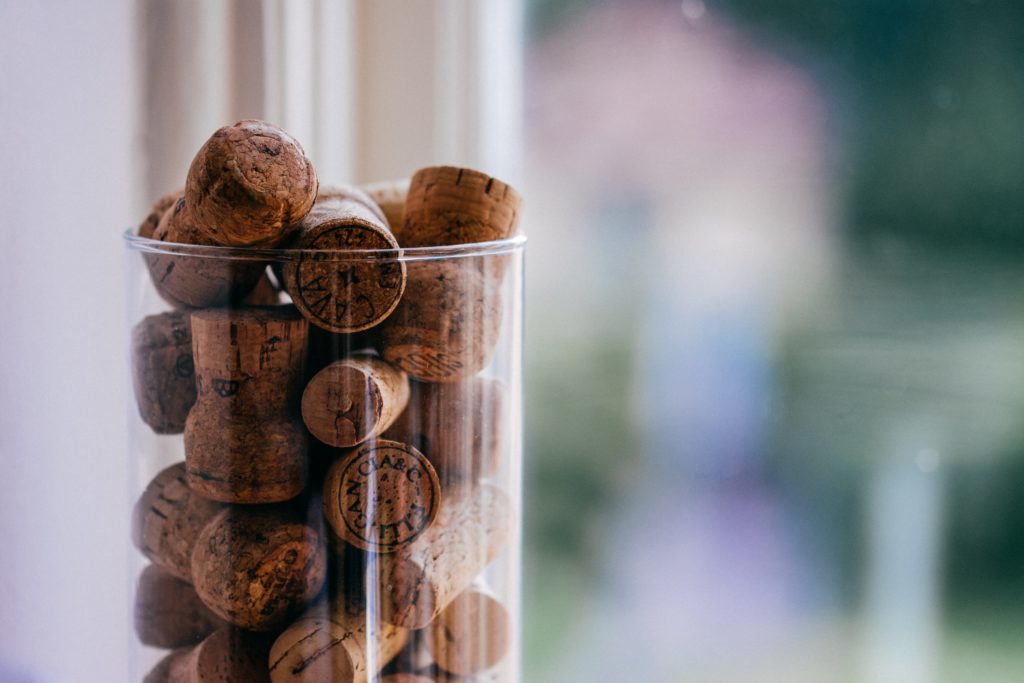 I recently had the chance to sit down and chat with 8 very different wine collectors. I asked them what they wish someone told them about collecting wine right when they started. What advice could have truly made a difference?
Together, this group racks up over 150 years of wine collecting experience from all over the world. Throughout their journeys, they each learned valuable lessons. And they've all built unique and impressive collections.
All wine collectors agreed that collecting wine has been worth it, despite the errors their young and eager selves made. These are the lessons they learned the hard way.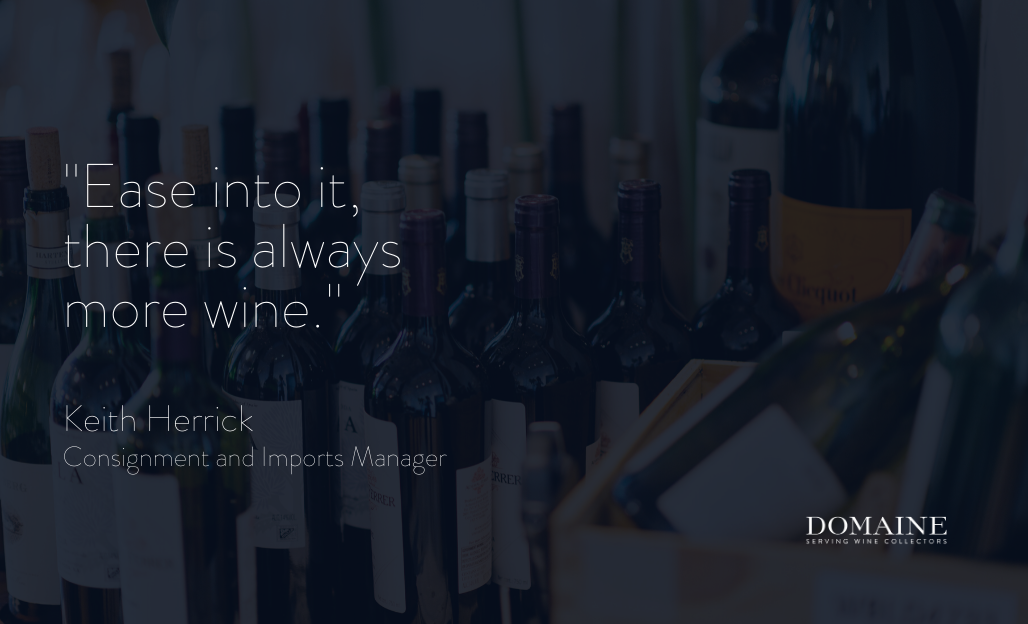 "Ease into it, there is always more wine."
-Keith Herrick, Consignment and Imports Manager
The best advice to keep in mind when starting your wine collecting adventure is go slow and don't rush your purchases. Your focus and taste will change with time, and that's good. It's fun to think about what wine will be interesting in 10 years when you first get started. But don't feel tempted to buy a whole bunch of it right off the bat. If you try to grow your collection by volume from the start, you're guaranteed to accumulate a large amount of wine that is of lower quality. There is always good wine to drink. It's a matter of timing and accumulating knowledge. There's no substitute for time, so be patient.
"Do your research on the seller."
-Rosemary Gray, General Manager, Domaine DC
Some of wine collectors surveyed regretted taking chances on "deals" from questionable retailers. If it sounds too good to be true, it probably is. Do your research because impulse buys rarely work out. Whether the seller be your neighborhood wine shop, an online retailer or through a wine auction, you can never know too much about what you're spending your money on.
When buying from a newer retailer, be skeptical of the hype surrounding their wine offerings. Remember that reputations are earned over time. This is especially true in the wine industry. Do yourself a favor and check secondary market pricing on older vintages before paying top dollar for new releases. Your wallet and palate will thank you.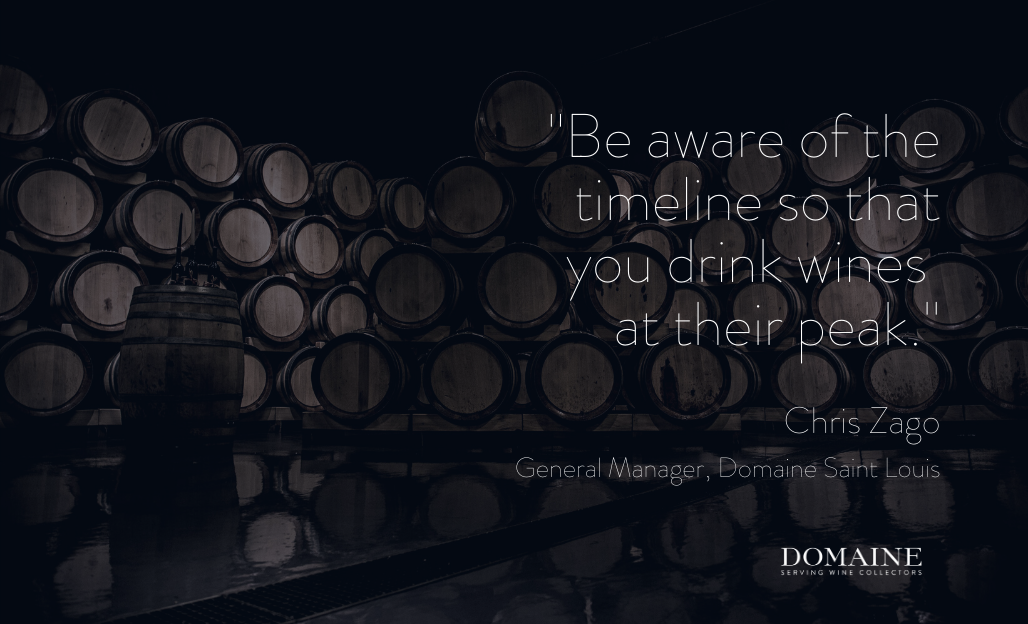 "Be aware of the timeline so that you drink wines at their peak."
– Chris Zago, General Manager, Domaine Saint Louis
If you've ever forgotten about a wine you stored for a special occasion, you're certainly not alone. While it's true that some wine gets better with age, once those wines hit their peak, they start to lose their value and tastiness. Organizing your cellar can be a huge help in knowing when your wine is ready to drink. To start, research the average and appropriate storage length for wines from different regions. Then, organize your cellar to reflect it.
Some advice from Peter Molinari, General Manager of Domaine Napa, is to buy a mix of wines that are ready to drink now and wines that you won't touch for a while. Using a cellar management software like CellarTracker or VinoCellar can help you keep track of what you have and when it's ready to be opened.
"Make sure you're storing your collection properly."
-Brian McCann, Marketing Manager, Domaine Saint Louis
The most important part of having a wine collection is storing it in a suitable environment. The ideal space is roughly 55° Fahrenheit with 70% humidity. Also, avoid light by storing it in a darker environment.
It seems like an innocent mistake, but proper storage is one thing that every collector needs to consider. If you're not caring for your wine properly, you're wasting your time and money.
According to Chris Zago, General Manager of Domaine Saint Louis, "The aspect of collecting wine that makes it worthwhile is the pleasure of enjoying delicious wine with secondary and tertiary aromas and flavors that only come with proper storage."
Proper wine storage is a critical practice that many collectors in the early stages learn the hard way. This goes for the size of your space as well. There's always too much wine and not enough room. Investing in a wine storage space is one solution to keeping your wine in the proper environment. You can also save space by using a wine storage system in your house, our favorite is Weinbox.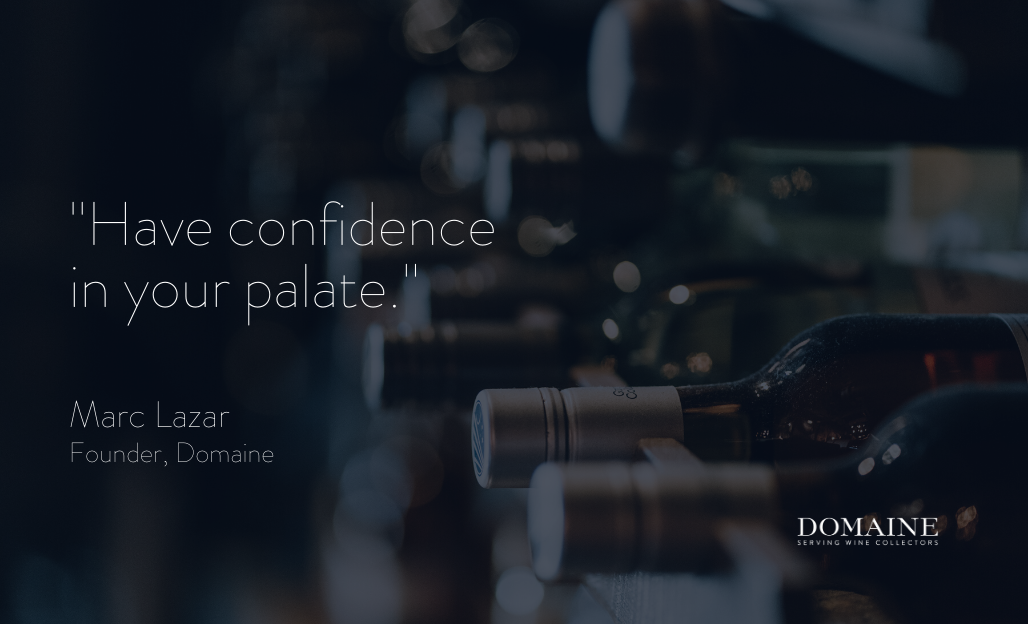 "Have confidence in your palate."
-Marc Lazar, Founder of Domaine Storage
Buy what you know you like, not what you want to like. There are so many spectacular winemakers out there, many of whom are not well-known in the mainstream wine conversation.
If you fall in love with a wine that is reasonably priced, trust your palate. The odds are that if you really like it, you're probably not alone. It will likely get more expensive and you'll have the unfortunate regret of not buying it when you had the opportunity. It's a true joy to share the wines you love. And chances are that if you really like something, it will give you great pleasure to see others react to it as well. Like what you like and be proud of it.
"Keep an eye out for passion projects."
-Peter Molinari, General Manager, Domaine Napa
Winemaking is truly an art. Those who have dedicated their whole lives to the craft often fall victim to the classic struggle of an artist; sell what is popular to make money or try to sell what was born from their own creativity. Many collectors who are new to the scene don't always realize that some of their favorite winemakers work on unique concepts that tend to live in the shadows of more well-known vintages. They call these their passion projects.
"Find reputable winemakers you trust and then find out what their 'passion project' label is," says Peter Molinari, General Manager of Domaine Napa. "They are often superior wines, made with heart, and offered at a low cost."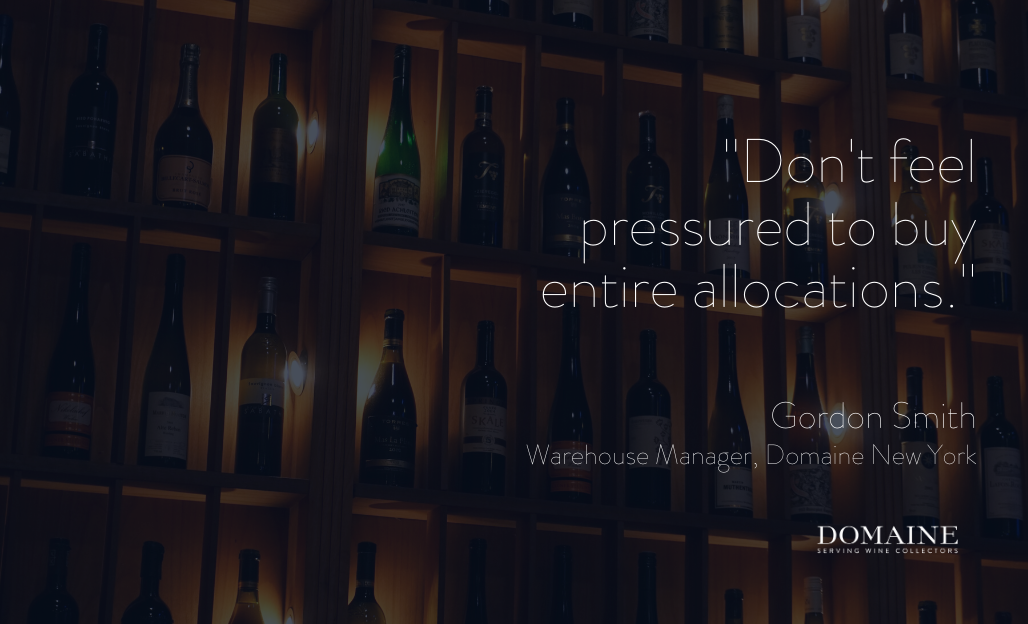 "Don't feel pressured to buy entire allocations."
-Gordon Smith, Warehouse Manager, Domaine New York
Warehouse Manager of Domaine New York, Gordon Smith's best advice is this, "Buy fewer bottles from more producers. It's okay to skip releases or vintages!"
A lot of collectors feel at times like they must buy entire seasonal allocations. Or at least as much of it as they can afford. That's not true, the goal should actually be to diversify your collection as much as possible. Spending your entire budget on one producer limits your collection and your taste buds. Don't go overboard with maximizing the allocation purchases. You're doing yourself a much bigger favor by branching out, trying new things and expanding your palate.
"Don't drink your entire collection."
-Nicki Ball, Advisory General Manager, Domaine Saint Louis
One mistake that we've heard from many collectors is that they drank their whole collection before it had the chance to grow. The best advice we can offer here is to buy some decent table wine to sip on when the occasion doesn't call for opening something grander. The point of a wine collection should always be to enjoy it, so find a good middle ground where you can still open some "special" bottles every now and then, without draining your cellar.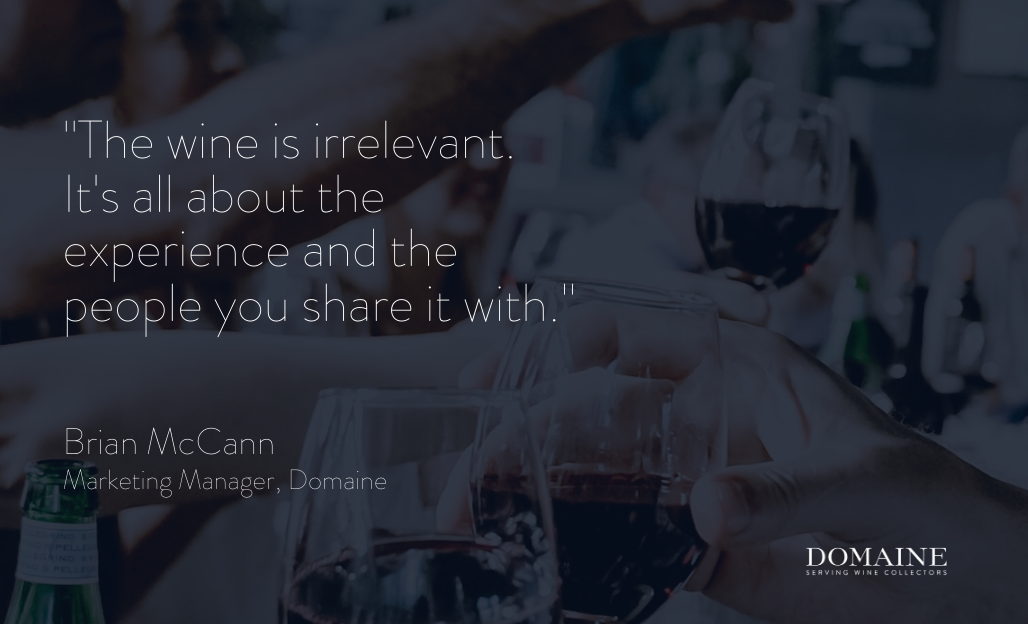 "The wine is irrelevant, it's all about the experience and the people you share it with."
-Brian McCann, Marketing Manager, Domaine Saint Louis
At the end of the day, wine has been a staple of gathering and socializing since the beginning of history. Every wine has a unique story to tell, just like the people who drink it. This advice goes for everyone. Whether you're a seasoned collector who has been able to relate to these common pitfalls or you're just starting to dip your toes into the world of wine collecting, remember to enjoy your collection with loved ones.
---
When you visit Domaine, chances are you won't be able to catch Chris kicking back with a nice glass of Burgundy. I had a hard enough time tracking him down, and his desk is 10 feet away from mine. When I did get a few moments with Chris, he was eager to chat about how he started in wine and share his work experience.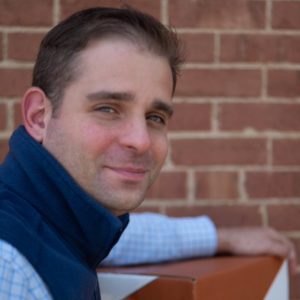 Chris has been the General Manager of our Saint Louis facility for two years. Like many of our clients, he's passionate, if not obsessed, with fine and rare wine. 
Before joining Domaine, Chris worked in hospitality since his early 20s. But he's been around wine his entire life. At a young age, Chris's parents sent him to Italy. For several years, he lived with his grandparents. He learned about the culture and their family traditions. And while Chris became fluent in Italian, he also ignited a passion for wine. 
A Day In The Life of Chris
As the General Manager, Chris works with clients to match services with their needs. Storing, moving, growing, selling, and enjoying, Chris knows it all. He bleeds Domaine blue.
"Since I started, the work we do has fascinated me. Our tagline says that we serve wine collectors. That's something I put into practice every day," said Chris. 
Chris enjoys building relationships with each client. He takes time to learn about their preferences and watch their buying patterns. "Working in the warehouse helps me learn about our clients. When shipments come in, I'm as excited as our clients for the new arrivals. I can't wait to share the news!" It's in these personal touches that Chris leans on his time in hospitality. 
Attention to Details
"I was successful in the hospitality industry from the beginning, because I got to know my clients. I was eager to please. I knew clients' kids' names, what clients did for work, what clients liked to drink." Chris continued to say that Domaine clients are like members and guests in past jobs. "Wherever you go, people are paying for service and experience. And everyone's expectations are high."   
Chris also realized early on that success at Domaine lies in the details. "The difference in a vintage or designation can dramatically affect the price. So, you have to be mindful of everything on a label." 
When I asked Chris where he gained this attention to detail, he shared a story. "In my previous life, every Wednesday, I would spend my whole day setting up one game of Mahjong for the same 30 ladies."  
While he's yet to set up a Mahjong table at Domaine Saint Louis, we can imagine it pristine and precise. 
Connecting 
The
 Dots On Service
Chris brought everything he learned in the hospitality industry to Domaine. He gives his undivided attention to clients and listens for the details. 
I asked Chris what his favorite questions are to ask clients. He said, "I always like to know how they started. Then, I'll ask whether they enjoy handling and organizing their inventory." Chris continued, "This starts to paint a picture of which level of service is best for each client." Based on their needs, Chris recommends the appropriate storage options.  
If clients enjoy being hands-on, he steers them towards Standard Storage. While this option includes fewer services, clients can add them as needed. 
"A lot times, I'll ask clients if they are already tracking their collection with software. If not, I recommend a one-time inventory." 
As for clients who want hassle-free storage, including receiving and inventory, Chris recommends Premier. "People are often surprised to learn we offer Premier. For those who want to enjoy collecting without all the tasks involved, it's a great option." Many Premier clients enjoy working with Chris, and he's helped them source and explore new wines.  
Maintaining Peace of Mind 
Chris has earned the trust of our clients, and of our team. Until recently, he was the only full-time employee at the Saint Louis facility. Over the years, Chris developed processes and set a new standard. He had always hoped to build a team that would maintain his caliber of customer service. 
Recently, his hard work paid off. Chris welcomed Joe Chambers as the Warehouse Manager in the Saint Louis facility in August. They worked together in the past. When looking for a trustworthy and reliable team member, Chris knew Joe was the perfect option. 
"The first thing that Chris told me about working at Domaine, " said Joe, "is that we're here for one reason. Our clients' peace of mind." In Chris's opinion, this means always exceeding expectations. "Our clients are trusting us with something of value. So, it's crucial for us to nurture our relationships."
What does the future look like for Chris?
Moving forward, Joe will maintain Chris's high standards and manage the cellar. Chris will continue to focus on client relationships. Beyond Saint Louis, Chris will be growing the sales of Domaine's products and services. This past summer, he spent a few weeks on the road selling cardboard wine boxes and Weinbox across the United States. 
For Chris, his motivation will always be going above and beyond client expectations. That makes him excited to evolve his role in sales. "It's nice knowing that our products and services are something collectors need. It's storage, but it's a whole lot more. Our moving services, organization, custom cardboard, Weinbox. They're all solutions to problems in wine collecting." 
If you want to get in touch with Chris and learn about all the solutions Domaine has to offer,  contact us and we'll be in touch soon. 
---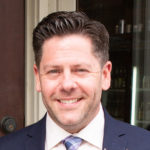 Did you know that Domaine moved 24,282 cases of wine last year for collectors nationwide? Moving wine is no simple task. And moving this much wine for our clients wouldn't be possible without Joe Quigle. 
Meet Joe 
Quigle
What do you get when you combine a wine collection with an 18-wheeler? We'd like to think you get Joe Quigle, Transit General Manager at Domaine Storage. Joe is as fanatical about the individual aspects of each wine move as he is about his beloved St. Louis Blues. Joe ensures the seamless logistics of every wine move for our clients. This includes the packing, picking up, shipping, delivering, organizing and installing of their collections. 
Before joining Domaine, Joe spent fifteen years learning the ropes of the trucking industry. We're fortunate to have added his expertise to our transit operations for the past few years. Under Joe, the Transit Division has grown to serve even more collectors. 
When he's not thinking about booking wine moves or watching the Blues, Joe spends time with his family. Believe it or not, even though he works in the wine industry, he's not the biggest wine enthusiast in his family.  
When asked about his passion for wine, Joe said, "I like buying it more than drinking it. It's fun to learn about wine, shop around and get a good deal." He continued, "Plus, my wife likes drinking wine, and she likes when I buy good stuff." 
Joe recently celebrated the Blues' Stanley Cup Championship with a bottle of '08 Dom Perignon. He confirmed that it pairs best with long-awaited victory. 
What Joe Likes About Working 
At
 Domaine
?
One of the things that attracted Joe to Domaine was the company's entrepreneurial spirit. As the lead operator in our Transit division, Joe has guided its continued success. "It's been fun to work with our team who support Transit almost every day. Everyone in Saint Louis, Chicago, New York, DC and Napa quickly responds to my many requests. It has been phenomenal. I couldn't do it without them." 
In addition to working with a great team, Joe enjoys the work-life balance at Domaine. Even though he's always making transit happen, Joe still enjoys time with his family and watching sports.   
Beyond the entrepreneurial spirit, great team members and work-life balance, Joe loves the care that goes into protecting client collections.  
"We've gone to great lengths to develop an amazing transit network. Everyone who works with us knows how to properly wrap a pallet and maintain the temperature of our client's wine."  
Joe shares this level of care and commitment for our clients. 
What Does A Typical Day Look Like 
For
 Joe
?
Lately, for Joe, there haven't been any slow days in Transit. He's certainly happy about that because he loves staying busy helping clients with their wine collections.  
A "normal day" in Transit is a balancing act. Joe is talking to new clients, communicating with drivers and confirming pickups and deliveries. Additionally, he's connecting with clients whose moves are in progress. 
"No matter what the size of the job is, our clients want to know that we're caring for their collection. Communication is key, so I keep them updated throughout the entire wine moving process."  
Joe is always asking lots of questions. He goes to great lengths to make sure he knows the ins and outs of every wine move. When you book your wine move with Joe, he'll get to know you and your collection personally.  
What Does 
The
 Road Ahead Look Like For Joe
?
Joe has helped grow Domaine's Transit Division over the past two years, and he's eager to see the evolution continue. "I'd love to see us open a new location. Somewhere in the southeast would be ideal, because we move a lot of wine to Florida." Joe continued, "Texas would great be too. It's a growing wine market, and I know people there would love our storage and advisory services too." 
He's also looking forward to visiting our partners more frequently. "Earlier this year, I had a chance to sit down with the team at Advantage. We spend so much time on the phone, and every so often, I get to spend a few minutes with drivers when they come to St. Louis." He continued, "Their team is so important to our business. It was great to sit down face-to-face to let them know what an amazing job they do with our clients' wine."  
If you're interested in learning more about moving wine, feel free to reach out to Joe directly. You can get in touch here, and he'll get back to you soon.