---
When you visit Domaine, chances are you won't be able to catch Chris kicking back with a nice glass of Burgundy. I had a hard enough time tracking him down, and his desk is 10 feet away from mine. When I did get a few moments with Chris, he was eager to chat about how he started in wine and share his work experience.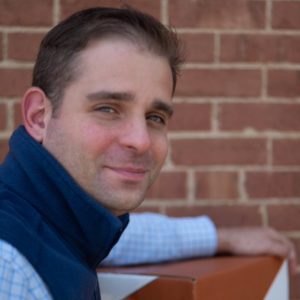 Chris has been the General Manager of our Saint Louis facility for two years. Like many of our clients, he's passionate, if not obsessed, with fine and rare wine. 
Before joining Domaine, Chris worked in hospitality since his early 20s. But he's been around wine his entire life. At a young age, Chris's parents sent him to Italy. For several years, he lived with his grandparents. He learned about the culture and their family traditions. And while Chris became fluent in Italian, he also ignited a passion for wine. 
A Day In The Life of Chris
As the General Manager, Chris works with clients to match services with their needs. Storing, moving, growing, selling, and enjoying, Chris knows it all. He bleeds Domaine blue.
"Since I started, the work we do has fascinated me. Our tagline says that we serve wine collectors. That's something I put into practice every day," said Chris. 
Chris enjoys building relationships with each client. He takes time to learn about their preferences and watch their buying patterns. "Working in the warehouse helps me learn about our clients. When shipments come in, I'm as excited as our clients for the new arrivals. I can't wait to share the news!" It's in these personal touches that Chris leans on his time in hospitality. 
Attention to Details
"I was successful in the hospitality industry from the beginning, because I got to know my clients. I was eager to please. I knew clients' kids' names, what clients did for work, what clients liked to drink." Chris continued to say that Domaine clients are like members and guests in past jobs. "Wherever you go, people are paying for service and experience. And everyone's expectations are high."   
Chris also realized early on that success at Domaine lies in the details. "The difference in a vintage or designation can dramatically affect the price. So, you have to be mindful of everything on a label." 
When I asked Chris where he gained this attention to detail, he shared a story. "In my previous life, every Wednesday, I would spend my whole day setting up one game of Mahjong for the same 30 ladies."  
While he's yet to set up a Mahjong table at Domaine Saint Louis, we can imagine it pristine and precise. 
Connecting 
The
 Dots On Service
Chris brought everything he learned in the hospitality industry to Domaine. He gives his undivided attention to clients and listens for the details. 
I asked Chris what his favorite questions are to ask clients. He said, "I always like to know how they started. Then, I'll ask whether they enjoy handling and organizing their inventory." Chris continued, "This starts to paint a picture of which level of service is best for each client." Based on their needs, Chris recommends the appropriate storage options.  
If clients enjoy being hands-on, he steers them towards Standard Storage. While this option includes fewer services, clients can add them as needed. 
"A lot times, I'll ask clients if they are already tracking their collection with software. If not, I recommend a one-time inventory." 
As for clients who want hassle-free storage, including receiving and inventory, Chris recommends Premier. "People are often surprised to learn we offer Premier. For those who want to enjoy collecting without all the tasks involved, it's a great option." Many Premier clients enjoy working with Chris, and he's helped them source and explore new wines.  
Maintaining Peace of Mind 
Chris has earned the trust of our clients, and of our team. Until recently, he was the only full-time employee at the Saint Louis facility. Over the years, Chris developed processes and set a new standard. He had always hoped to build a team that would maintain his caliber of customer service. 
Recently, his hard work paid off. Chris welcomed Joe Chambers as the Warehouse Manager in the Saint Louis facility in August. They worked together in the past. When looking for a trustworthy and reliable team member, Chris knew Joe was the perfect option. 
"The first thing that Chris told me about working at Domaine, " said Joe, "is that we're here for one reason. Our clients' peace of mind." In Chris's opinion, this means always exceeding expectations. "Our clients are trusting us with something of value. So, it's crucial for us to nurture our relationships."
What does the future look like for Chris?
Moving forward, Joe will maintain Chris's high standards and manage the cellar. Chris will continue to focus on client relationships. Beyond Saint Louis, Chris will be growing the sales of Domaine's products and services. This past summer, he spent a few weeks on the road selling cardboard wine boxes and Weinbox across the United States. 
For Chris, his motivation will always be going above and beyond client expectations. That makes him excited to evolve his role in sales. "It's nice knowing that our products and services are something collectors need. It's storage, but it's a whole lot more. Our moving services, organization, custom cardboard, Weinbox. They're all solutions to problems in wine collecting." 
If you want to get in touch with Chris and learn about all the solutions Domaine has to offer,  contact us and we'll be in touch soon.