---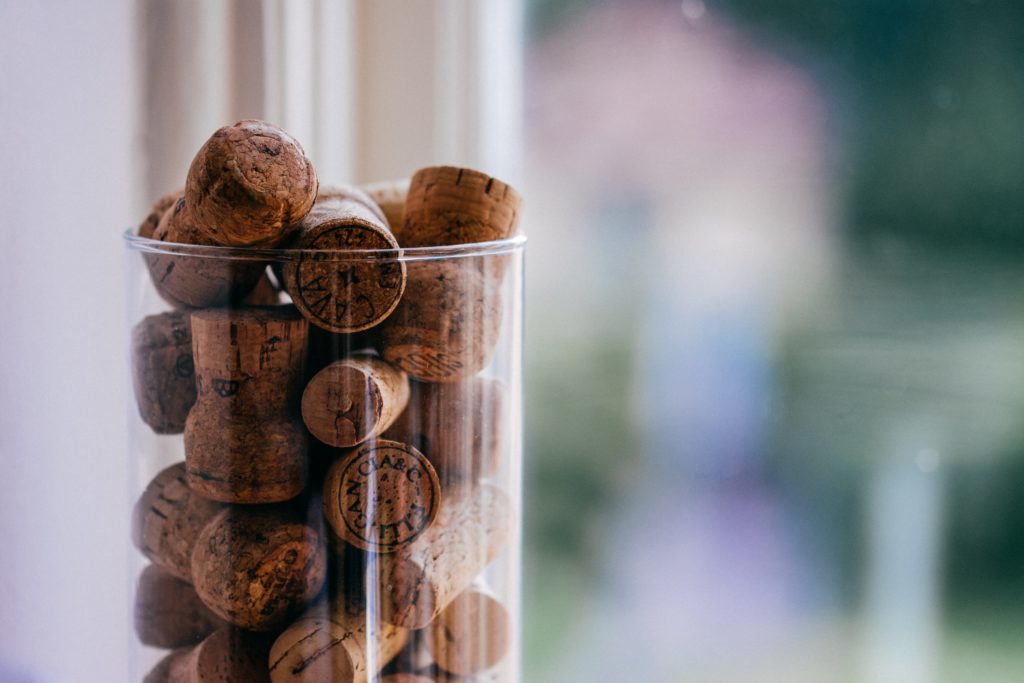 I recently had the chance to sit down and chat with 8 very different wine collectors. I asked them what they wish someone told them about collecting wine right when they started. What advice could have truly made a difference?
Together, this group racks up over 150 years of wine collecting experience from all over the world. Throughout their journeys, they each learned valuable lessons. And they've all built unique and impressive collections.
All wine collectors agreed that collecting wine has been worth it, despite the errors their young and eager selves made. These are the lessons they learned the hard way.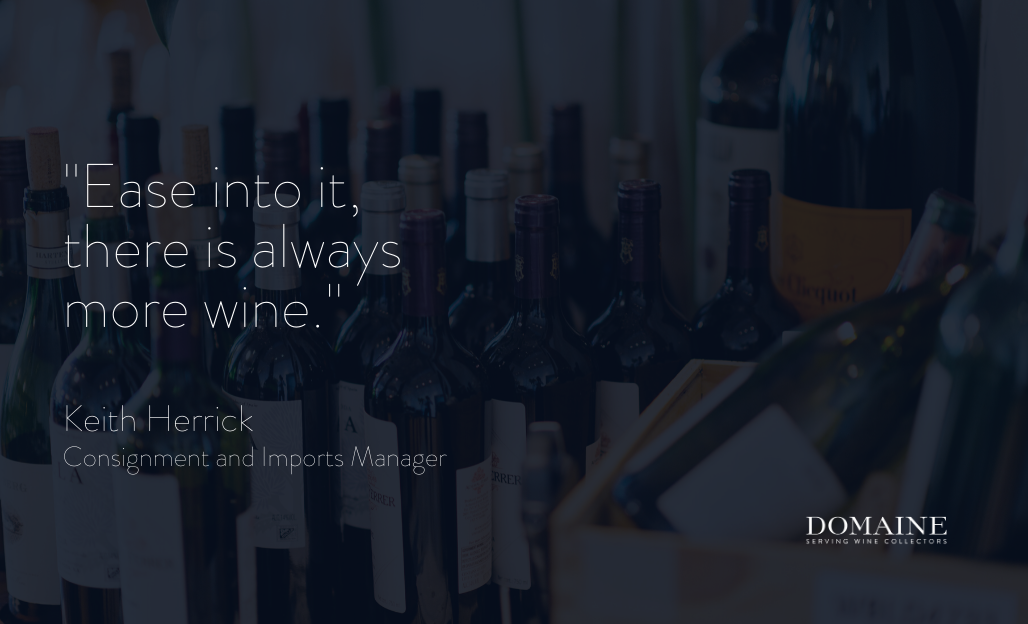 "Ease into it, there is always more wine."
-Keith Herrick, Consignment and Imports Manager
The best advice to keep in mind when starting your wine collecting adventure is go slow and don't rush your purchases. Your focus and taste will change with time, and that's good. It's fun to think about what wine will be interesting in 10 years when you first get started. But don't feel tempted to buy a whole bunch of it right off the bat. If you try to grow your collection by volume from the start, you're guaranteed to accumulate a large amount of wine that is of lower quality. There is always good wine to drink. It's a matter of timing and accumulating knowledge. There's no substitute for time, so be patient.
"Do your research on the seller."
-Rosemary Gray, General Manager, Domaine DC
Some of wine collectors surveyed regretted taking chances on "deals" from questionable retailers. If it sounds too good to be true, it probably is. Do your research because impulse buys rarely work out. Whether the seller be your neighborhood wine shop, an online retailer or through a wine auction, you can never know too much about what you're spending your money on.
When buying from a newer retailer, be skeptical of the hype surrounding their wine offerings. Remember that reputations are earned over time. This is especially true in the wine industry. Do yourself a favor and check secondary market pricing on older vintages before paying top dollar for new releases. Your wallet and palate will thank you.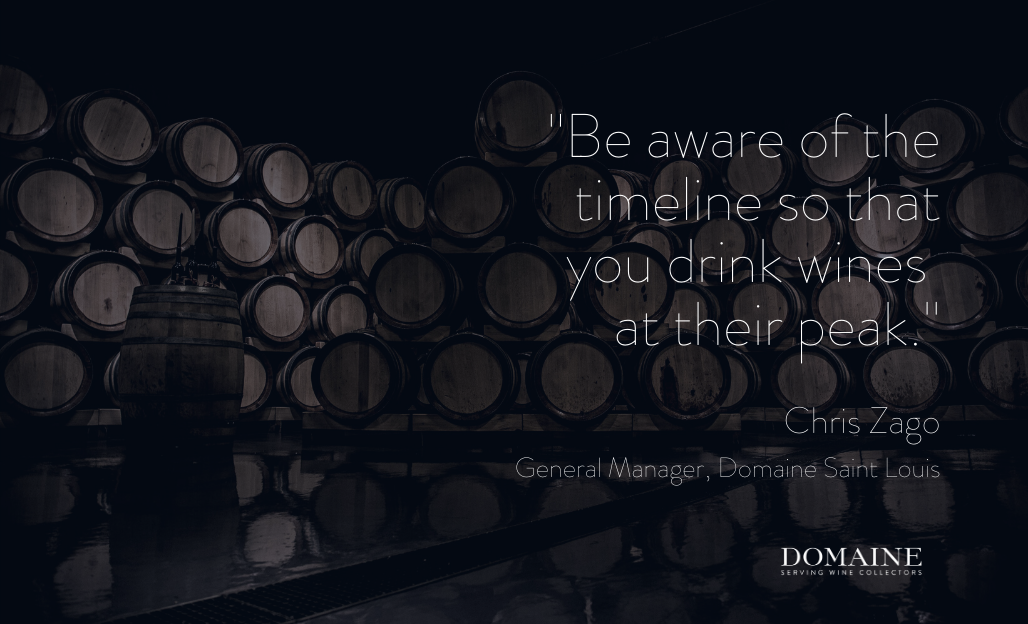 "Be aware of the timeline so that you drink wines at their peak."
– Chris Zago, General Manager, Domaine Saint Louis
If you've ever forgotten about a wine you stored for a special occasion, you're certainly not alone. While it's true that some wine gets better with age, once those wines hit their peak, they start to lose their value and tastiness. Organizing your cellar can be a huge help in knowing when your wine is ready to drink. To start, research the average and appropriate storage length for wines from different regions. Then, organize your cellar to reflect it.
Some advice from Peter Molinari, General Manager of Domaine Napa, is to buy a mix of wines that are ready to drink now and wines that you won't touch for a while. Using a cellar management software like CellarTracker or VinoCellar can help you keep track of what you have and when it's ready to be opened.
"Make sure you're storing your collection properly."
-Brian McCann, Marketing Manager, Domaine Saint Louis
The most important part of having a wine collection is storing it in a suitable environment. The ideal space is roughly 55° Fahrenheit with 70% humidity. Also, avoid light by storing it in a darker environment.
It seems like an innocent mistake, but proper storage is one thing that every collector needs to consider. If you're not caring for your wine properly, you're wasting your time and money.
According to Chris Zago, General Manager of Domaine Saint Louis, "The aspect of collecting wine that makes it worthwhile is the pleasure of enjoying delicious wine with secondary and tertiary aromas and flavors that only come with proper storage."
Proper wine storage is a critical practice that many collectors in the early stages learn the hard way. This goes for the size of your space as well. There's always too much wine and not enough room. Investing in a wine storage space is one solution to keeping your wine in the proper environment. You can also save space by using a wine storage system in your house, our favorite is Weinbox.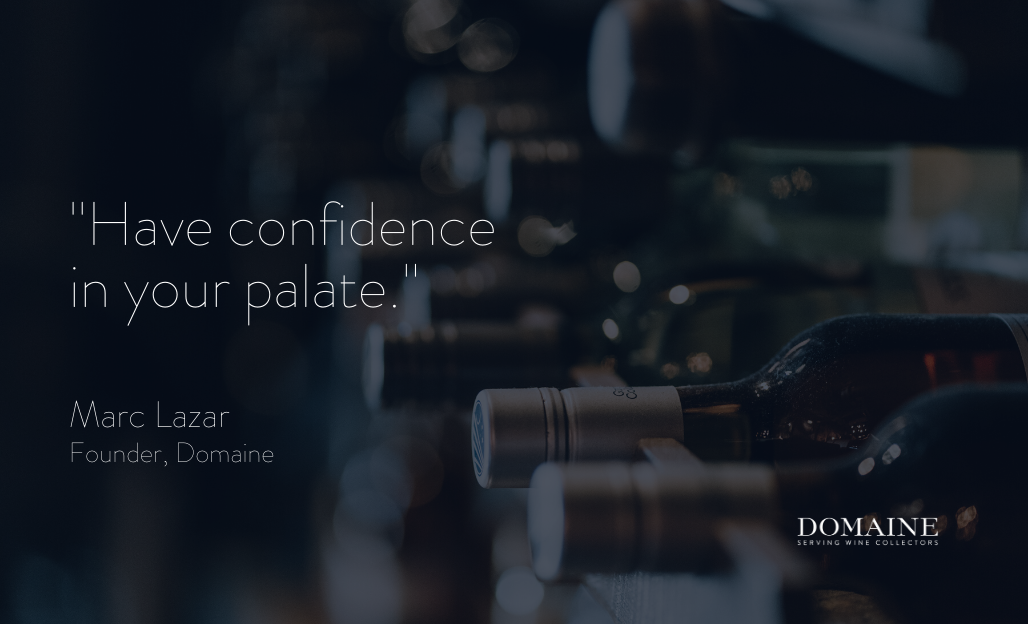 "Have confidence in your palate."
-Marc Lazar, Founder of Domaine Storage
Buy what you know you like, not what you want to like. There are so many spectacular winemakers out there, many of whom are not well-known in the mainstream wine conversation.
If you fall in love with a wine that is reasonably priced, trust your palate. The odds are that if you really like it, you're probably not alone. It will likely get more expensive and you'll have the unfortunate regret of not buying it when you had the opportunity. It's a true joy to share the wines you love. And chances are that if you really like something, it will give you great pleasure to see others react to it as well. Like what you like and be proud of it.
"Keep an eye out for passion projects."
-Peter Molinari, General Manager, Domaine Napa
Winemaking is truly an art. Those who have dedicated their whole lives to the craft often fall victim to the classic struggle of an artist; sell what is popular to make money or try to sell what was born from their own creativity. Many collectors who are new to the scene don't always realize that some of their favorite winemakers work on unique concepts that tend to live in the shadows of more well-known vintages. They call these their passion projects.
"Find reputable winemakers you trust and then find out what their 'passion project' label is," says Peter Molinari, General Manager of Domaine Napa. "They are often superior wines, made with heart, and offered at a low cost."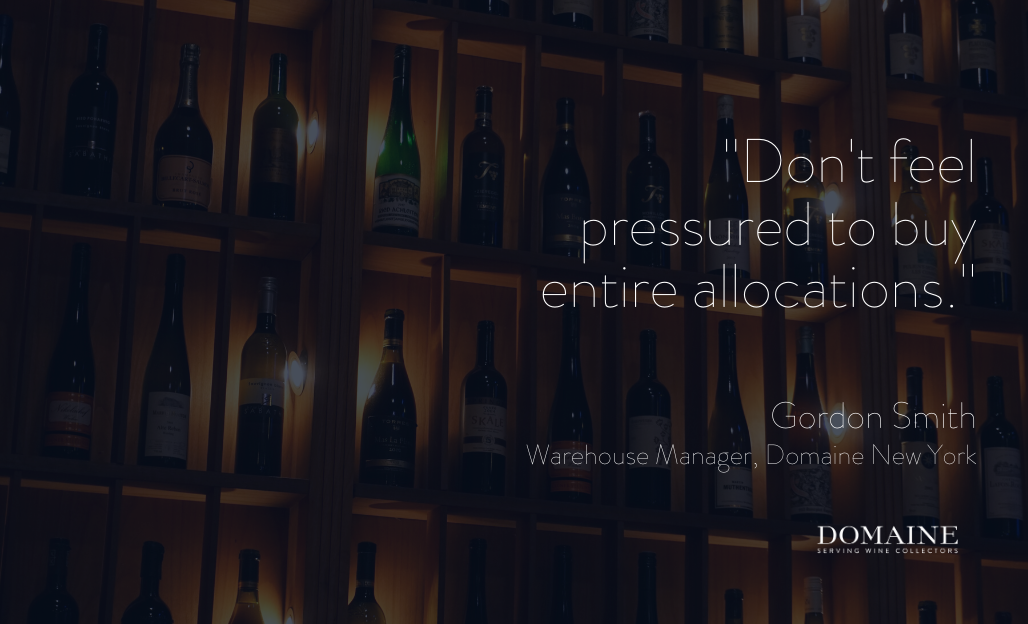 "Don't feel pressured to buy entire allocations."
-Gordon Smith, Warehouse Manager, Domaine New York
Warehouse Manager of Domaine New York, Gordon Smith's best advice is this, "Buy fewer bottles from more producers. It's okay to skip releases or vintages!"
A lot of collectors feel at times like they must buy entire seasonal allocations. Or at least as much of it as they can afford. That's not true, the goal should actually be to diversify your collection as much as possible. Spending your entire budget on one producer limits your collection and your taste buds. Don't go overboard with maximizing the allocation purchases. You're doing yourself a much bigger favor by branching out, trying new things and expanding your palate.
"Don't drink your entire collection."
-Nicki Ball, Advisory General Manager, Domaine Saint Louis
One mistake that we've heard from many collectors is that they drank their whole collection before it had the chance to grow. The best advice we can offer here is to buy some decent table wine to sip on when the occasion doesn't call for opening something grander. The point of a wine collection should always be to enjoy it, so find a good middle ground where you can still open some "special" bottles every now and then, without draining your cellar.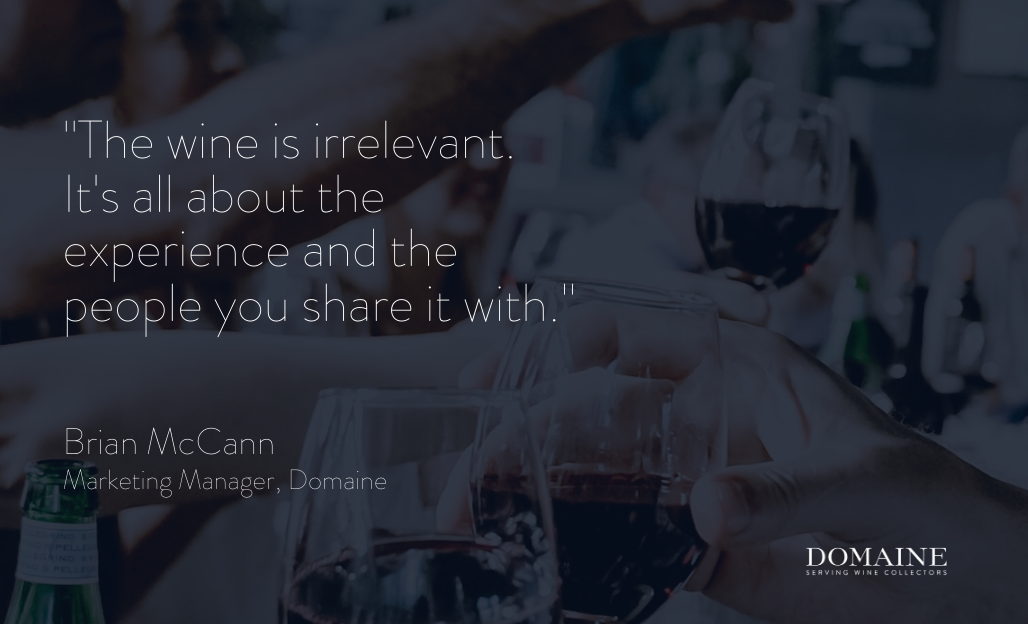 "The wine is irrelevant, it's all about the experience and the people you share it with."
-Brian McCann, Marketing Manager, Domaine Saint Louis
At the end of the day, wine has been a staple of gathering and socializing since the beginning of history. Every wine has a unique story to tell, just like the people who drink it. This advice goes for everyone. Whether you're a seasoned collector who has been able to relate to these common pitfalls or you're just starting to dip your toes into the world of wine collecting, remember to enjoy your collection with loved ones.