---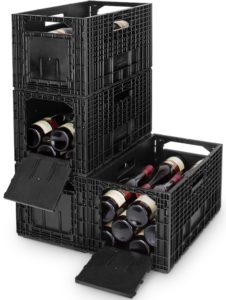 We never thought that we would tout a wine gadget. However, a unique new product has come to our attention, and we have had great success with it in our warehouses.


Weinbox solves the most common gripe for wine collectors (save for corked bottles), in that the bottle you want always seems to be at the bottom of a stack. We have spent collective years of our lives digging out bottles and cases from stacks in our storage lockers or home cellars. Weinbox is a very strong, collapsable crate that holds 12 bottles or 6 magnums of just about any shape and size.  
The crate  features a small door on the front and back which allows you to retrieve any bottle from the case without moving other boxes above the one you are accessing. A label holder is built into each door. This is a simple and brilliant tool, especially for maximizing access in a small storage locker or cramped home cellar. Weinbox is infinitely reusable, strong enough to make tall stacks, manufactured from recycled plastic and imported into the U.S. by a company located near our St. Louis facility. The minimum order is three units, and they collapse for efficient shipping.
Weinbox is available on our website by clicking here, and for more information including specs, click here. May you now spend less time searching for your wine and more time enjoying it!
Cheers!
The Domaine Team