---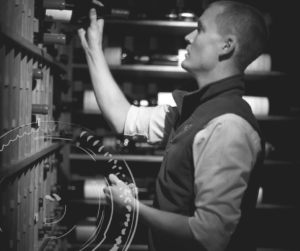 Fall is the perfect time to utilize the services our Advisory division. During the shipping season and before the holiday rush, our team of experts can turn your messy cellar into an organized one. No cellar too large or small.
Let Us Organize Your Cellar
If you need help putting away new deliveries, making room for recent purchases or pulling wines that you no longer wish to keep, our team can assist you in: organizing, inventorying, and assessing your collection. We can also set up or update your CellarTracker inventory to make day-to-day access easier.
Contact the GM of our Advisory Division, Andrew Traughber, for more details or to schedule your clean up.
About Our Advisory Team
At our core, Domaine is a curatorial service helping new and established collectors move, trade, organize, store and understand their collections since 2003. Since then, our expert team has organized more than 1.8 million bottles in home cellars across the globe. Click here to meet the team.