---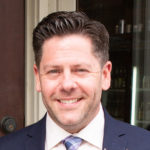 Did you know that Domaine moved 24,282 cases of wine last year for collectors nationwide? Moving wine is no simple task. And moving this much wine for our clients wouldn't be possible without Joe Quigle. 
Meet Joe 
Quigle
What do you get when you combine a wine collection with an 18-wheeler? We'd like to think you get Joe Quigle, Transit General Manager at Domaine Storage. Joe is as fanatical about the individual aspects of each wine move as he is about his beloved St. Louis Blues. Joe ensures the seamless logistics of every wine move for our clients. This includes the packing, picking up, shipping, delivering, organizing and installing of their collections. 
Before joining Domaine, Joe spent fifteen years learning the ropes of the trucking industry. We're fortunate to have added his expertise to our transit operations for the past few years. Under Joe, the Transit Division has grown to serve even more collectors. 
When he's not thinking about booking wine moves or watching the Blues, Joe spends time with his family. Believe it or not, even though he works in the wine industry, he's not the biggest wine enthusiast in his family.  
When asked about his passion for wine, Joe said, "I like buying it more than drinking it. It's fun to learn about wine, shop around and get a good deal." He continued, "Plus, my wife likes drinking wine, and she likes when I buy good stuff." 
Joe recently celebrated the Blues' Stanley Cup Championship with a bottle of '08 Dom Perignon. He confirmed that it pairs best with long-awaited victory. 
What Joe Likes About Working 
At
 Domaine
?
One of the things that attracted Joe to Domaine was the company's entrepreneurial spirit. As the lead operator in our Transit division, Joe has guided its continued success. "It's been fun to work with our team who support Transit almost every day. Everyone in Saint Louis, Chicago, New York, DC and Napa quickly responds to my many requests. It has been phenomenal. I couldn't do it without them." 
In addition to working with a great team, Joe enjoys the work-life balance at Domaine. Even though he's always making transit happen, Joe still enjoys time with his family and watching sports.   
Beyond the entrepreneurial spirit, great team members and work-life balance, Joe loves the care that goes into protecting client collections.  
"We've gone to great lengths to develop an amazing transit network. Everyone who works with us knows how to properly wrap a pallet and maintain the temperature of our client's wine."  
Joe shares this level of care and commitment for our clients. 
What Does A Typical Day Look Like 
For
 Joe
?
Lately, for Joe, there haven't been any slow days in Transit. He's certainly happy about that because he loves staying busy helping clients with their wine collections.  
A "normal day" in Transit is a balancing act. Joe is talking to new clients, communicating with drivers and confirming pickups and deliveries. Additionally, he's connecting with clients whose moves are in progress. 
"No matter what the size of the job is, our clients want to know that we're caring for their collection. Communication is key, so I keep them updated throughout the entire wine moving process."  
Joe is always asking lots of questions. He goes to great lengths to make sure he knows the ins and outs of every wine move. When you book your wine move with Joe, he'll get to know you and your collection personally.  
What Does 
The
 Road Ahead Look Like For Joe
?
Joe has helped grow Domaine's Transit Division over the past two years, and he's eager to see the evolution continue. "I'd love to see us open a new location. Somewhere in the southeast would be ideal, because we move a lot of wine to Florida." Joe continued, "Texas would great be too. It's a growing wine market, and I know people there would love our storage and advisory services too." 
He's also looking forward to visiting our partners more frequently. "Earlier this year, I had a chance to sit down with the team at Advantage. We spend so much time on the phone, and every so often, I get to spend a few minutes with drivers when they come to St. Louis." He continued, "Their team is so important to our business. It was great to sit down face-to-face to let them know what an amazing job they do with our clients' wine."  
If you're interested in learning more about moving wine, feel free to reach out to Joe directly. You can get in touch here, and he'll get back to you soon.