---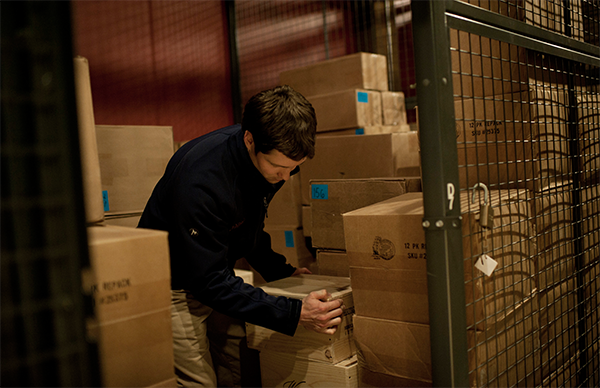 We are hiring for a new position, Domaine Transit Logistics Associate, based out of of Domaine New York location! Do you know a wine professional who would be a good fit for Domaine Transit? Please send resumes to careers@domainewinestorage.com.
Job Description for Domaine Transit Logistics Associate
This full time position is based out of the Domaine wine storage warehouse in Edison, NJ. The Transit Logistics Associate will regularly interact with various members of the Domaine team, customers, vendors, and truck drivers, as well as report to the Operations Manager of Domaine. This position includes vacation, bonus structure and charitable contributions. The Logistics Assistant will be on-site M-F 8:30am-5pm.  This career path that is somewhat new; a combination of face-to-face customer service and logistics scheduling.
Duties will include the following:
Work directly with clients, retailers and freight vendors to coordinate, manage, and promote consolidated shipments
Receive, log, and organize all consolidated shipments physically moving to/through DWS-NY
Execute estimate requests with speed, accuracy, and professionalism (attaining appropriate information from clients, receive quotes from necessary vendors, and marking up appropriately).
Manage wine shuttle program
Manage, track, and communicate all aspects of Transit 2-5 transit shipments from start to  finish per week
Execute approximately 2 Transit pickup & deliveries in the NYC area; occasionally requires overnight travel
Prepare all Transit outgoing pallets for shipment; receive and track all inbound Transit pallets
Report weekly performance to the Operations Manager
Maintain general transit area cleanliness, organization, and supply inventory
Qualifications
Industry experience in the wine or trucking industries preferable
College Degree
Ability to lift 40lb cases of wine properly and as much as needed
Strong oral and written communication skills
Ability to receive supervision and execute that communicated vision in practical terms
Possess a natural affinity for impeccable organization and attention to detail
Proven ability to communicate with and lead others with differing backgrounds
Strong technological proficiency; daily use of QuickBooks, Microsoft Dynamics CRM & Proprietary Inventory Software
Send resume to careers@domainewinestorage.com
Anticipated start date January 2015
Interviews beginning January 2, 2015
No phone calls please