---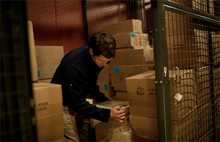 Dear Clients and Friends,
We are hiring in Washington DC!  We are sad to announce that our friend Mo Cherry will be leaving the Domaine Wine Storage team next month to begin an exciting new career as Beverage Director at DC's Fiola Mare.  We wish Mo the best of luck, and thank him for two great years at Domaine DC.

Now the search beings for a new Warehouse Manager at Domaine DC.  Do you know a wine professional who would be a good fit for Domaine DC?
About The Position
This full time position will manage the Domaine DC warehouse and reports to the Domaine Management executive team. It includes vacation, bonus structure and charitable donations.
The position is located in the Washington DC warehouse, with sales calls and marketing event attendance in the DC metro area. Office Hours: 10am – 7pm
Details
• Communicate daily with clients to manage highly-demanding, time intensive requests
• Manage and reconcile all client inventories
• Receive, inventory, and put away wine shipments
• Prepare cases of wine for deliveries and pick-ups
• Build the Domaine brand within the DC metro area
• Report weekly performance to the Director of Operations
• Execute customer requests with speed, accuracy, and professionalism
• Manage & maintain general warehouse cleanliness & organization
• Communicate with landlord and contractor for maintenance & build out needs
Qualifications
• College Degree (BA or BS preferred)
• Ability to lift 40lb boxes repeatedly
• Strong oral and written communication skills
• Proficiency in Microsoft Office (Mainly Word and Excel)
• Advanced experience with and knowledge of wine
• Possess excellent organizational skills
• Confidence and comfort communicating with persons of varied economic levels
• Ability to manage multiple projects at once
• Exceptional attention to detail
• A natural self starter with the ability to manage yourself
• Warehouse and logistics experience preferred
Send resume to careers@domainewinestorage.com
Anticipated start date ASAP
Interviews beginning ASAP
No phone calls please