---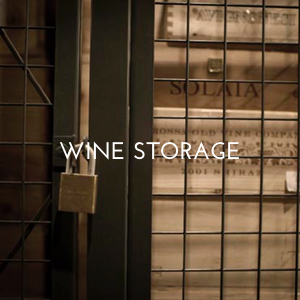 A well-curated wine collection evolves over many years – sometimes decades. If stored properly, the wines will be more enjoyable in the glass and infinitely more valuable upon resale. So, whether you are collecting for investment or enjoyment, here are six crucial concerns to consider when storing your wine collection.
HOW TO STORE A WINE COLLECTION
1. UV LIGHT
Block all exterior light from bottles and the entirety of the space. Be sure to use incandescent lights and be sure to turn them off when not needed. Signs of damage such as leaking bottles or weakening boxes should be easily visible, so ensure plenty of light when working in the cellar.
2. GENERATOR & SECURITY
Temperature extremes are dangerous to the collection. The space should be secured by methods including layered security doors and redundant alarm sensors. Detectors should be installed throughout the facility that sense perimeter, motion, heat, smoke, and humidity with control panels wired to backup power. While a back-up generator in the home is an added bonus, you should only consider an off site facility if it contains a back up generator.
3. TEMPERATURE
Wine should be stored between 53-56 degrees Fahrenheit at all times. Therefore, is ideal to have your thermostat connected to the security alarm to alert you or the wine storage facility when temperatures are not ideal.
4. HUMIDITY
Humidity in a cellar should remain at 60-70 percent at all times. This is because humidity maintains cork elasticity. A dry cork often causes seepage into or out of the bottle, which ruins the contents.
5. VIBRATION
Vibration can cause cork leakage or bottle breakage. To avoid this, remove all sources of vibration by mounting refrigeration equipment to the ceiling on isolation brackets. Make sure that the foundation and surrounding structures are sound. If at all possible do not locate a home cellar under a staircase.
6. INSURANCE
Many wine collectors have inadequate or nonexistent wine collection insurance. This tends to be because many home policies do not cover wine collections. Whether in transit or storage, it is vital that your wine maintains proper coverage during any state of your possession. We recommend IsureYouWine.com as the best stand-alone policy. Its coverage includes extreme temperature, theft while in transit, and accidental breakage.
Click here to learn more about storing wine or how we can help you make decisions for your collection,