Florida
Wine Storage
Moments away from the sunny shores of Pompano Beach is Domaine's newest facility, bringing impeccable service and care to wine lovers all across Florida.
Features
Storage With a Purpose
Climate

All facilities are kept at 55ºF and 70% humidity 24/7.

Monitoring

Storage conditions are carefully monitored for any unexpected changes.

Security

All facilities are secured by keyless entries with automatic visitation logs.

Backups

Auxiliary generators automatically maintain storage conditions in the event of an outage.
Two ways

To Store
Standard
Standard storage was created for the hands-on collector. As a Standard client, you'll have full access to your storage locker, as well as the tools and workspace needed to manage your collection. Should you ever need a little help, just ask our team about inventory or organization services.
Self-managed wine storage
Collection access 6am-10pm 365 days per year*
Tools and workspace to manage your collection
Delivery notifications including shipping origin
Complimentary wine receiving
Robust pick up and delivery schedule**
Placement of wine deliveries into locker
*Excludes STL and NY
**NY features robust delivery schedule to entire tri state area All Premier services available upon request for an additional fee.
Premier
As a Premier client, your collection will be meticulously managed by our team. Each bottle will be received, cataloged and organized in your online inventory account. And when you're ready to pull something from the cellar, simply pick up the phone or submit a request online.
Fully-managed wine storage
Complimentary wine receiving
Robust pick up and delivery schedule**
Detailed delivery confirmation
Professional bottle inspection
Professional wine inventory
Placement of wine deliveries into locker
Complimentary online inventory account
Inclusive of all in/out fees*
*Excludes NY
**NY features robust delivery schedule to entire tri state area
Capacity
Standard
Premier
14 Case
18 cubic feet
$495 / Annual
$145 / Quarterly
–
16 Case
21 cubic feet
–
$815 / Annual
$240 / Quarterly
32 Case
42 cubic feet
$1130 / Annual
$330 / Quarterly
$1635 / Annual
$480 / Quarterly
About
Sunshine State of Mind
Opened in 2021, Domaine Florida is our permanent home in an area we've visited for years. This facility, located between West Palm Beach and Miami, will extend our reach across the state and serve as a critical hub for our nationwide wine shipping network. Domaine Florida will also house a fleet of refrigerated delivery vehicles for you to request on-demand wine deliveries from your locker.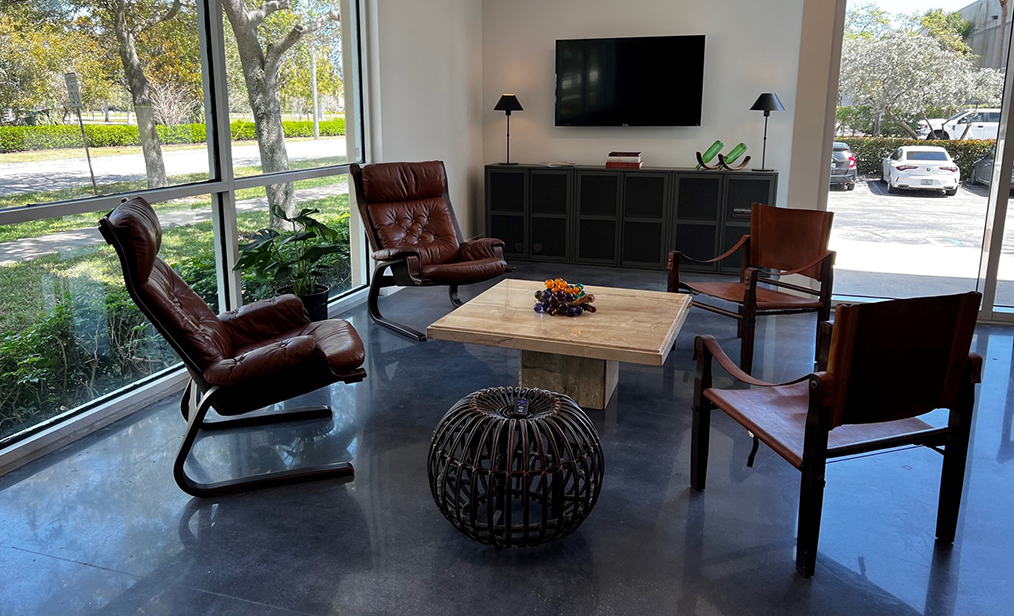 Contact
(754) 206-0977
Location & Hours
3159 N. Andrews Avenue Extension
Pompano Beach, Florida 33064
Street and private lot parking available.
Monday – Friday: 10 am – 6 pm (EST)
Additional hours by appointment*
Contact this Location
Private Events
Stay Awhile
Our lounge is open during business hours and can also be reserved for evening events. We encourage clients to stop in throughout the day to relax, have a glass from their collection or host an intimate gathering.
Resources
More on Storage
fbq('track', 'FindLocation');